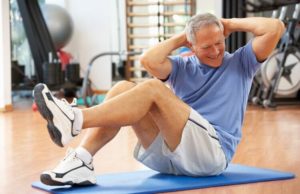 The CDC urges you to do 150 minutes of aerobics each week. Here's how to get it done in easy, 10-minute bursts.
The federal Centers for Disease Control (CDC) says all adults age 18-64 need 150 minutes of moderate aerobic exercise a week.
Who has time for that?
For many of us, getting fit is an ever-present entry on our to-do list. We know we need to do it, we have the best intentions, but in the end, the task is just too overwhelming and routine-changing to conquer. We already have days packed with work, errands, and family and social commitments. Where could those 150 minutes possibly come from?
(MORE: 4 Ways to Turn Your Walk Into a Workout)
"The most common excuse we hear from people about why they're not working out is 'I don't have time,'" says Jennipher Walters, a personal trainer in Kansas City, Mo., and co-founder of the website Fit Bottomed Girls. "But everyone's busy."
The time for exercise is hidden in our schedules, Walters says, if we look closely enough. "The first step is to be candid," she says. "Where are you kind of lying to yourself about where you can find more time?"
Try this: Keep a week-long diary of all the time you spend in sedentary activities. Then review your log and target small pockets of time within those seated periods that could be better spent exercising.
How short can an exercise session be? The CDC has no problem with you working out in a series of 10-minute bursts throughout the week. In fact, it's a great way to get started if you haven't exercised regularly for a while.
Another key concept to keep in mind is that there's a whole range of opportunities for aerobic exercise that don't involve running on a track or going to a gym — and some of them are downright delightful, like chasing your kids or grandkids around the backyard. The more such opportunities you can string throughout the week, the closer you'll be to reaching your target.
(MORE: The Fiftysomething Diet: Workout Foods to Fuel Your Boomer Body)
What Counts as Exercise?
The U.S. Department of Health and Human Services defines moderate aerobic activity as "anything that makes your heart beat faster." That means a wide variety of daily activities can become exercise if you do them faster or more intensely. To get your daily ration of exercise, try 10-minute bursts of some of the following:
Play with the kids (or the dog). Children are a lot like grown-ups: They need lots of physical activity — and there's plenty of evidence that they don't get enough. So when you play with your children or grandchildren, everyone benefits. Tag, kickball, leapfrog, jump rope, hopscotch and backyard races are all great ideas. To find more, check out the Games We Used to Play website. Taking a brisk walk, or playing outside, with your dog (or your grandkids' dog) is another great way to accumulate some exercise time.
Try extreme gardening. Gardening can be soothingly sedentary or intensely aerobic, depending on how you do it. To turn your gardening chores into exercise, do them vigorously. Each afternoon, take a few 10-minute breaks from working or watching TV to rake an area of leaves or mow part of the lawn with extra energy. If you're weeding a flowerbed, challenge yourself to do it as fast as you can, for as long as you can. Pushing a fully-loaded wheelbarrow can also count as aerobic activity, as well as a strength and balance exercise. Learn more about the surprising health benefits of gardening from Next Avenue.
Give your house a power cleaning. You have to do it anyway, so why not make housekeeping worth the trouble by turning it into an aerobic workout? "While vacuuming or dusting, work fast and add walking lunges while you do it," says Jenni Wakeman, a physical therapist with Proaxis Therapy in South Carolina. "When you're washing dishes, practice single balance, literally standing on one leg." (The latter is a doubly valuable exercise, as our balance tends to decline as we get older and requires regular maintenance.)
(MORE: Why It's Never Too Late to Start Running)
Start an office hooping club. For those of us who work full-time, carving out even a 10-minute block for exercise between 9 and 5 can seem especially difficult. But it isn't. You could bike to and from work, or, if you drive, you could park 10 minutes away from the office to build a pair of vigorous walks into your day. You can also take one or two 10-minute breaks each day to walk up and down the stairs of your office building, or you can head outside at lunch for 10 minutes of walking lunges. It's even more fun to get coworkers involved, maybe in a daily 10-minute hooping block. Hooping is an exercise that's a little like old-fashioned hula hooping, but with bigger, sturdier hoops that are much easier to keep rotating. Head out to the parking lot every day with your club and refresh your bodies and minds before getting back to the daily grind.
Just dance! You know you want to. Unleash your inner child by putting on some tunes and rocking out for 10 minutes in the privacy of your own living room. The exercise is good for your heart, and the music is good for your soul.
Note: The CDC believes that moderate physical activity is safe for most people, but it's always a good idea to let your doctor know in advance about any significant changes to your activity level, especially since exercise can also affect how some medications work.
Elizabeth Hanes is a registered nurse who writes regularly about health, wellness, nutrition and caregiving. She won a 2010 Online Journalism Award for "Dad Has Dementia," her 36-week journal about caring for her late father. She lives in New Mexico where she also writes about art, antiques and collecting.